It was 'business as usual' as success stories were shared at the conclusion of a growth project that has supported 4,000 local firms.
The sold-out celebratory event in Leicester marked the end of a partnership project part-funded by the European Regional Development Fund (ERDF).
Delivered through the Business Gateway Growth Hub – and run by Leicester City Council, Leicestershire County Council, East Midlands Chamber, and the LLEP – it has seen almost £6m invested in programmes and grants to develop local SMEs since 2019.
Event attendees also learned how future support will be channelled through the Growth Hub as it continues to provide guidance and signposting to available resources.
Councillor Adam Clarke, Deputy City Mayor – Climate, Economy and Culture, said: "The entrepreneurial nature of our economy is one of, if not the, city and county's biggest strengths.
"Our business community is resilient, adaptable, and creative, and the LLEP Business Gateway Growth Hub plays an important role in supporting that."
More than 100 delegates were at the Holiday Inn event, which was hosted by Jim Willis, Managing Director of digital agency Bulb Studios.
Presentations detailed the impact of the ERDF partnership, setting out how 4,000 businesses accessed support over the last four years, with 212 jobs created, and more than £2m in grants secured for businesses.  A further £3.6m in private sector funding was also secured. 
New LLEP CEO Phoebe Dawson said that provision would continue as the Growth Hub moves into a post-ERDF phase from the end of June.
"What you can expect from the Growth Hub remains the same," she told delegates. "It's business as usual.
"We want to work with you and your businesses in the future, providing support and guidance to help you grow."
Barrie Walford, Economic and Regeneration Manager at North West Leicestershire District Council, described how plans to use UK Shared Prosperity Fund (UKSPF) money in the county have been submitted and approved, with several district-based programmes already in the pipeline.
And Peter Chandler, Head of Economic Regeneration at Leicester City Council explained how it will continue to prioritise business support and are investing more than £3m from the UK Shared Prosperity fund into support for local businesses.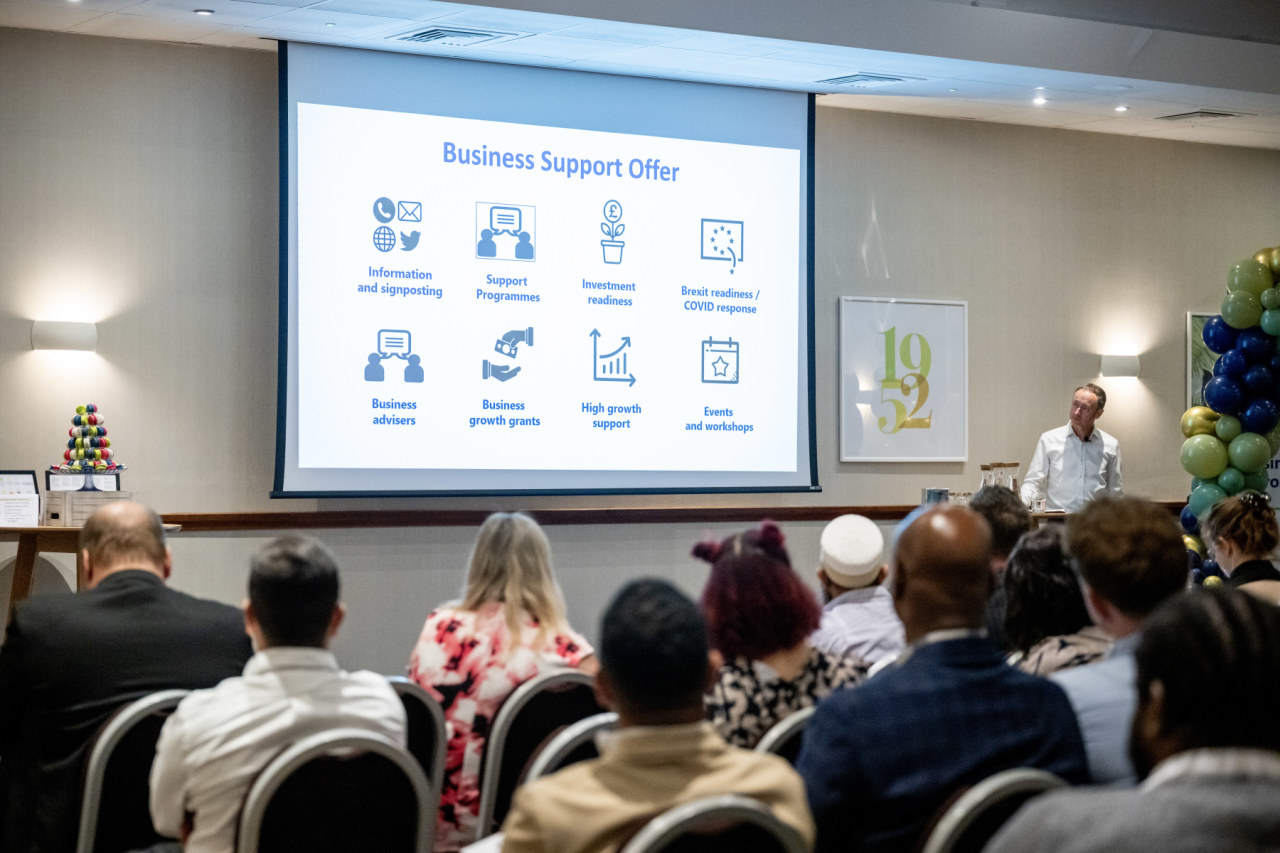 The event also heard the story of Mohammed Essajee, owner of Interiors by Design, and Scott Burton, General Manager at TEK Seating.
Keynote speaker Tajinder Banwait described the journey of her fragrance brand, Urban Apothecary London, from a kitchen table in Leicester to 30 international markets.
Tajinder, honoured with a Queen's Award for Enterprise last year in recognition of excellence in international trade, also described her new brand, Palette London.
View presentations from the event