SportPark Pavilion 4 has been officially opened by Dame Katherine Grainger – the Chair of UK Sport and one of Britain's most decorated female Olympians.
More than 80 guests from across the sports sector, national and regional economic development partners, Loughborough University, and the project team gathered to celebrate the opening of the £9m expansion of SportPark. 
It came with the help of funding from the LLEP through the Getting Building Fund. 
This saw funds designated for investment in local, shovel-ready infrastructure projects to stimulate jobs and support economic recovery across the country. The LLEP supported the SportPark expansion with £6m.  
Andy Reed OBE, LLEP Co-Chair, said:
Funding support for SportPark Pavilion 4 has helped to deliver a superb building that is also highly sustainable – a key pillar of our economic growth strategy.

The investment has created jobs and brought further leading sports organisations to base themselves here in Loughborough, adding to its reputation for collaboration and innovation.

SportPark 4 is another strategic asset for our region and it's wonderful to see it officially open its doors.
Further funding was provided through the Healthy and Innovative Loughborough project which received £2.5m from the Government's Towns Fund via Loughborough Town Deal. 
The project aims to build on the town's reputation for sporting excellence and harness that knowledge for the good of residents.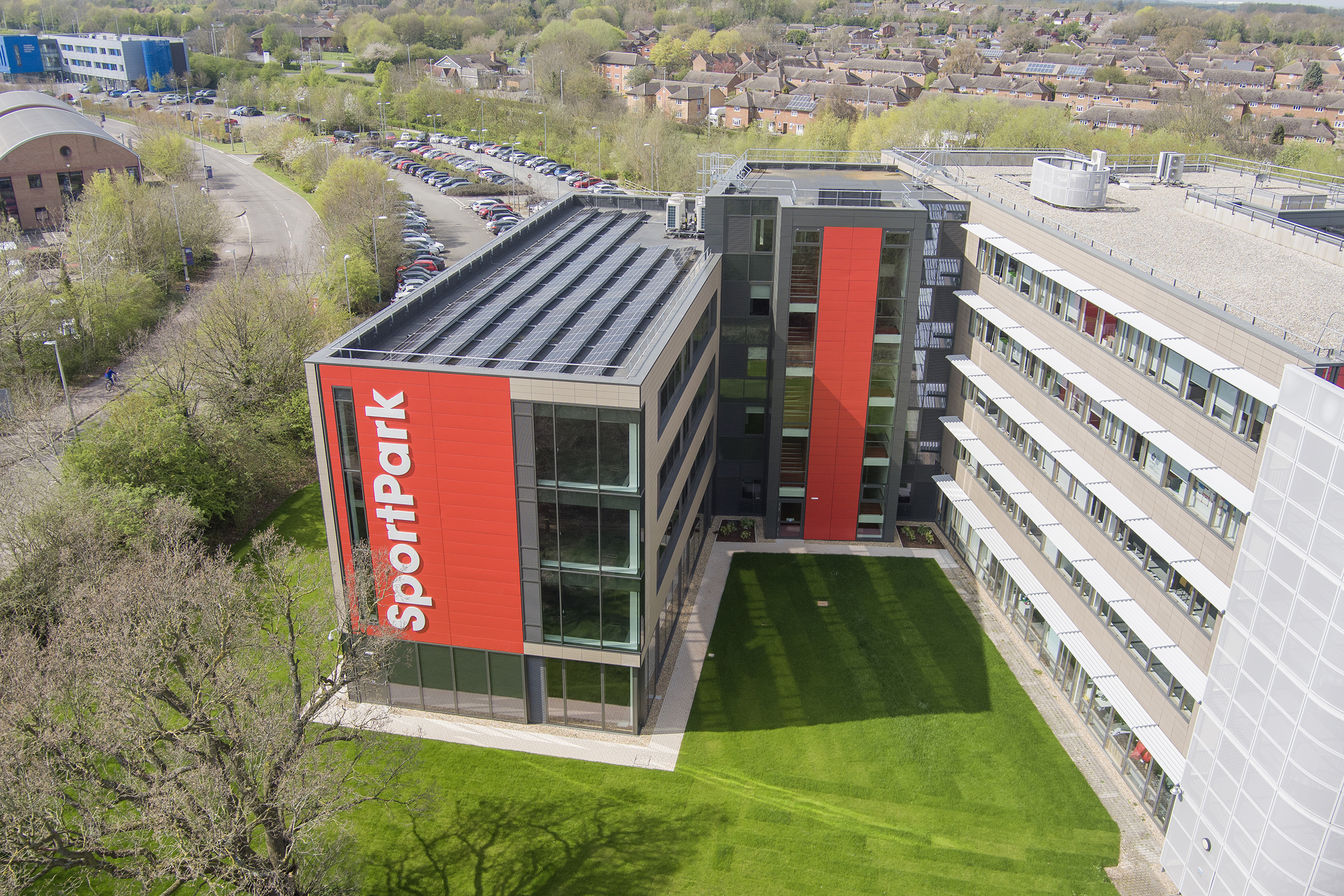 Town Deal is backing 11 projects worth over £40m of investment to Loughborough. 
Dr Nik Kotecha OBE, Chair of Loughborough Town Deal Board and LLEP Board Member, said:
Loughborough is synonymous with elite sport and that's why the Town Deal Board was keen to support this project.

SportPark is an outstanding asset to have in the town and it brings many benefits to the local economy and communities.

The Town Deal Board is already delivering for Loughborough, and this is another outstanding project which has brought investment into the area.
SportPark Pavilion 4 is Loughborough University's first Passivhaus development. There are only 5 Passivhaus Certified office buildings in the UK.
Passivhaus is widely regarded as the most challenging energy efficiency and comfort standards in the world.
The project was designed by David Morley Architects and built by Henry Brothers Construction.
Dame Katherine said:
It's wonderful to be part of that community at Loughborough, where chance introductions and conversations can produce exciting, unpredictable, and incredible results.  

SportPark Pavilion 4 continues to build on this vision. It's a stunning building. But what will make it really fly is the people who inhabit it, their creativity and collaboration. I'm very optimistic for what the future will bring.
Relocating its headquarters from London to SportPark in 2021, UK Anti-Doping (UKAD) is SportPark Pavilion 4's anchor tenant, occupying the entire third floor. 
Philip Bunt, UKAD's Chief Operating Officer, said:
We chose Loughborough University because it is the leading sports university in the country, with far more sports bodies based here than elsewhere. We wanted to get closer to them.
Alex Owen, Chief Financial Officer of Loughborough University and executive lead for the development of LUSEP, said:
These partnerships allow us to drive innovation and change faster and with more impact, as well as creating new jobs, boosting the regional economy, and providing more opportunities for our students.