Planning permission has been granted for the second phase development of Space Park Leicester, a landmark initiative to create a world-leading cluster for innovative research, enterprise and education in space and Earth observation, helping the UK capture a growing share of the £400m space market.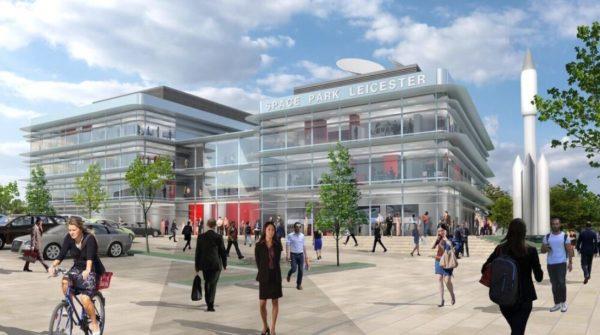 The University of Leicester has received planning permission from Leicester City Council for the second phase of the £100 million Space Park Leicester project. Phase two of the project will focus on research into Artificial Intelligence and robot-assisted satellite production, in addition to research into novel solutions for downstream space data challenges.
Construction of the first phase of Space Park Leicester is underway, with the official ground-breaking ceremony taking place at the end of January.  Construction of the second phase is anticipated to commence Spring this year, with the full site expected to be completed in 2021.
The pioneering work undertaken at Space Park Leicester will include creating a bespoke hub for the National Centre for Earth Observation, as well as providing state-of-the-art facilities for space research, development and manufacturing.
The ambition for phase three is for a Low Cost Access to Space (LoCAS) satellite manufacturing facility for the manufacture of mid-range satellites.
The LLEP allocated £13.175 million from its Local Growth Fund to support the infrastructure (£5m) and phase one development (£8.175m) of Space Park Leicester that lies within the Loughborough and Leicester Science and Innovation Enterprise Zone.  Kevin Harris, Chair of the LLEP Board of Directors, said:
"I'm very excited to see the launch of the next phase of Space Park Leicester. The project is on the cusp of bringing huge economic benefits to our region, as Leicester becomes the centre of the space industry in the Midlands. The world-class facilities that will be on offer for start-ups and SMEs will make the site a hugely attractive destination for business, research and innovation.
"Space Park Leicester is as pioneering as the research it will host. The vision for new R&D facilities, pop-up labs and business hosting is the result of a true collaboration between academia, business and government – both local and national. The end goal at Space Park Leicester is to harness the space industry for the benefit of our region, and for the country as a whole. I'm very proud that the LLEP has been involved from the start in supporting this fantastic project."
For more information, please contact: admin@llep.org.uk