How can SMEs build resilient workforces at low cost while supporting the growth of their businesses?
A free guide published by the Leicester and Leicestershire Enterprise Partnership (LLEP) addresses this question and more – offering a raft of practical solutions to local business owners.
Building the Workforce of the Future is an updated 16-page guide, designed specifically for busy SMEs, listing a host of opportunities and schemes which are available to local employers.
It sets out a series of typical skills-related challenges which hold back business growth – using case studies with real local businesses including Everards, CR Civil Engineering, and University Hospitals of Leicester to set out practical options for overcoming blockages.
Many opportunities are available for local employers to link with young people and adults to develop the skills they need. Some schemes offer low cost or free ways to provide fresh talent to organisations – helping free up time for more experienced workers, offer new ideas, and apply fresh skills to boost productivity.
One of those to have already benefited is Loughborough-based CR Civil Engineering, which launched in 2000 with three staff members and one van. The company now employs 230 staff and has four office locations across the UK.
Since starting its apprenticeship programme seven years ago, the business has worked with 72 apprentices. Fifty of them remain with the company.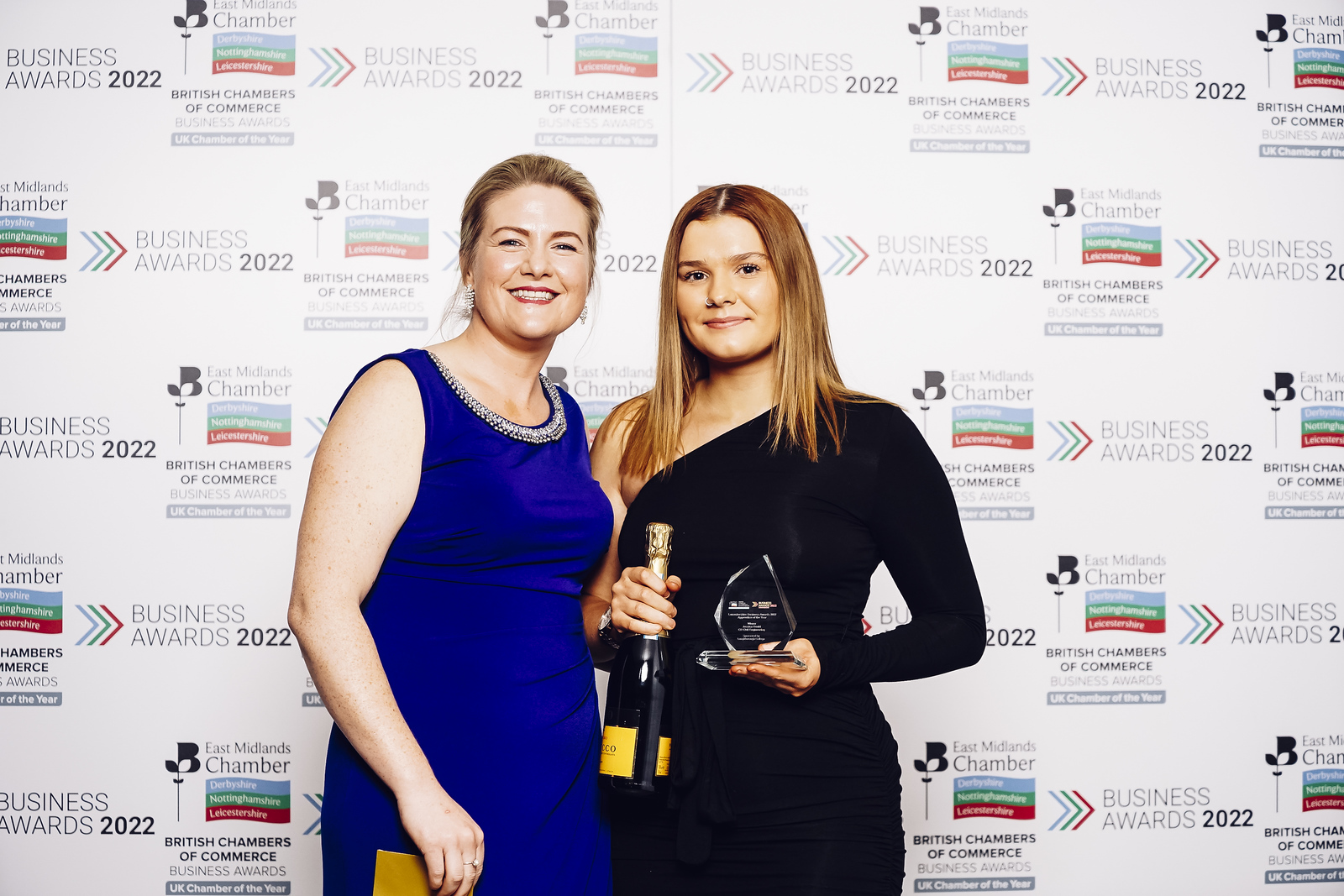 Among them is training coordinator Jess Gould, who won Apprentice of the Year at the recent East Midlands Chamber's Leicestershire Business Awards after commencing a Level 3 business administration apprenticeship two years ago.
Jess said:
I have been given so many opportunities. I have become a lot more mature, my knowledge of the construction industry has grown vastly from speaking to other employees, and I have gained confidence.

I would recommend an apprenticeship to anyone of any age, background, and academic ability. It's one of the greatest opportunities you could get.
CR Civil Engineering Managing Director Carl Roberts said:
I was given an opportunity when I was starting out and I've found over the years that if you give a bit you generally get a lot back.

We have apprentices doing everything from office administration to site management – both sides are gaining from their excellent work as estimators, quantity surveyors, mechanics, marketers and much more.
Apprenticeships are only one way that successful businesses bring new blood into their organisations. Other options detailed in the guide include:
work experience placements

internships

T Levels
More than half of UK employers fear there is a lack of candidates with the right knowledge and skills.
And Sonia Baigent, Chair of the LLEP Business Board, encouraged local SMEs to consider the opportunities listed in the guide.
Sonia said:
The guide contains local case studies, contact details and practical options. It offers a helpful way forward for businesses which want to use recruitment to grow but are not sure where to start or who to speak with.
The guide was coordinated by the LLEP Skills Team. It is part of a drive by the Skills Advisory Panel to simplify for busy SMEs the wide array of skills offers that are available locally.
The LLEP Careers Hub worked on the guide alongside partners including Leicester College, SMB College Group, Loughborough College and North Warwickshire and South Leicestershire College.
De Montfort University Leicester, Loughborough University, and the University of Leicester – plus Leicestershire Cares, LEBC and Access Generation, the Leicester Employment Hub, and the Business Gateway Growth Hub – were also involved.
Download Building the Workforce of the Future