Innovative Leicestershire launched in Loughborough this morning as the county's 2023 Innovation Festival got underway.
The new brand and website were introduced as the Chair of the Leicester and Leicestershire Enterprise Partnership (LLEP) Innovation Board also described a 10-point Delivery Plan to drive forward the regional agenda.
More than 140 people registered to attend the launch of Leicestershire Innovation Festival 2023 at Loughborough University Stadium.
They heard a string of guests discuss how innovation can lift business productivity.
LLEP Innovation Board Chair, Dr Nik Kotecha OBE DL, noted recent speeches about innovation from the Prime Minister and Cabinet Members, adding: "We have been driving the innovation agenda in Leicestershire for some time now. 
"We now need to deliver on the plan, measure outcomes and ensure we are promoting our successes."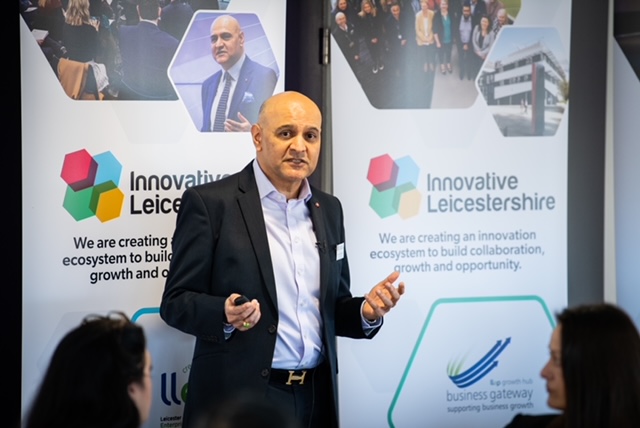 Referencing today's launch of the new Innovative Leicestershire brand and website, Dr Nik described the importance of the recently-agreed Delivery Plan for the region to track value offered through inward investment, knowledge transfer partnerships, funding support for small businesses, and more.
Today's event was opened by Loughborough University vice-chancellor Professor Nick Jennings, who spoke about his aim to use the university to unleash enterprise.
Citing recent success stories including Alcuris, INCUS Performance, and mOm, he described how university innovation and enterprise was providing hundreds of millions of pounds of value to the UK economy.
And he pointed to the opportunity for Leicestershire in having three universities which are all interested in pushing forward the innovation agenda.
Amit Sinha, Chief Technology Officer for SMB, Scale and Private Equity at Microsoft UK, spoke about innovation in times of uncertainty.
He reiterated that affordable technology presents ways for SMEs to 'work smarter, not harder' to reinvigorate their approach to innovation without spending large amounts of money.
And Mr Sinha, who has been working with the LLEP to develop its Digital Skills Partnership, showed that history suggests that companies which invest during economic crises tend to emerge more strongly in recovery.
A panel of small business representatives led a discussion hosted by Innovate UK's Julian Bowery about the opportunities for SMEs around gains through simple innovation.
Panellists were:
Jake Karia, Managing Director of Leicester-based Food Attraction

Sonia Baigent, Director of Assist Business Consulting and Chair of the LLEP Business Board

James Whyley and Steven Sleath, directors at Loughborough-based process improvement specialist Sirius Transformation

Jennifer Thomas, Development Manager for the Federation of Small Business.
After a short break, guests listened to three well-received talks which set out the practical gains to be made through organisational innovation.
Professor Jan Godsell, Dean of Loughborough University School of Business and Economics, spoke about pricing and resilience in supply chains.

Ram Gokal, Chief Executive of MIRA-based IVe, described how an ethos of continuous innovation had taken the company from zero to producing sustainable light goods vehicles – despite the business launching the day before Lockdown.

Professor Mat Hughes, Professor of Innovation and Entrepreneurship at the University of Leicester, spoke about how to take a different view on productivity metrics in all organisations.
The fortnight-long Leicestershire Innovation Festival runs until Friday 17 February.
It includes more than 20 events bringing together a host of organisations from business, industry, education, research and non-profit sectors.
The festival, now in its fifth year, is led by the LLEP and includes the flagship LeicestershireLive Innovation Awards at the National Space Centre on the evening of Thursday 16 February.
Innovate UK CEO Indro Mukerjee will provide the keynote speech at the awards ceremony. A very small number of tickets remain available.
Register to attend free Innovation Festival events now