The Leicester and Leicestershire Enterprise Partnership Ltd. (LLEP), in partnership with Pathways and the University of Leicester, is launching Future Me, a seven-week virtual careers programme. Future Me will afford young people the opportunity to gain encounters with employers from Leicester and Leicestershire, to help further their careers education despite the challenges of the ongoing national lockdown.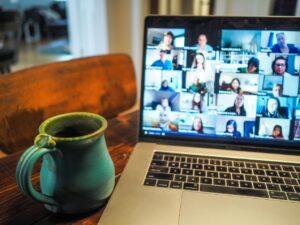 Future Me sessions will take place via video conferencing
In these uncertain times, it can be difficult to plan for the future. However, planning for a future career is one of the most important parts of a young person's education. The LLEP's Enterprise Adviser Network is keenly aware of this, and together with its partner organisations, has put in place a programme to allow young people to gain meaningful encounters with inspirational business leaders, despite the constraints of lockdown.
Future Me will consist of seven weekly sessions. After an introductory session in week one, each week it will explore an essential life skill: teamwork; communication; self-belief; problem solving; and self-management.
During each session, a different employer will outline the importance of that week's focus skill, and how it applies to the world of work. They will then host live Q&A sessions with the young people in attendance. Students that join the sessions will be set a series of short challenges to put their own skills to the test.
In other sessions, university students will give insights into life in higher education and what it's like to choose and study for a degree or higher-level apprenticeship. Future Me will therefore give young people a rounded picture of their options post- GCSEs and A-levels.
The course is aimed at students in years 9 and 10. By the end of the seven-week programme they will have:
A good understanding of key employability skills that businesses are looking for;
Explored some of the key growth sectors in Leicestershire;
Improved their awareness of labour market information from both global and local perspectives;
Developed their understanding of the range of qualifications and progression routes;
Interacted with local employers ranging from micro to large businesses and a range of their employees
Interacted with university students from courses associated with the key skills and growth sectors;
Developed self-awareness of their skills, qualities, strengths, areas for improvement and values;
Engaged in career action planning to identify and own their next steps in career learning.
Students will get to hear first-hand from Horiba Mira, Crown Packaging, Colab Creating, AXA PPP healthcare and Samworth Brothers.
Gerarde Manley is the LLEP Careers Hub Manager said: "Our goal with Future Me is to make use of technology to bring students together with employers and allow the sort of interactions that normally take place in the classroom or workplace visits to continue over Zoom.
"Future Me will encourage students to think about their skill sets, where their strengths lie and also where they can improve. The whole idea is for them to form a more rounded overview of the world of work, and the direction that they would like their future careers path to take."
Beka Avery, Pathways Project Manager said "I am so excited to have the opportunity to bring together all of the resources, knowledge and networks held by the University of Leicester and the LLEP with the Pathways Team to develop Future Me.
"It was clear that we needed to do something bespoke and really relevant for our local school and college learners that would protect their ability to have meaningful encounters with employers and Higher education during lockdown.
"We commissioned Complete Careers LLP to develop the content and accompanying resources to ensure that Future Me meets the CDI Framework Outcomes and the Gatsby Benchmarks. We are aiming to create an informal, conversational virtual environment and definitely the most important aspect of the programme is that students enjoy it and feel able to ask questions and chat to people from Industry and from Higher Education."
Catherine Brunger is CSR and Education manager for AXA PPP Healthcare, one of the employers that will be involved in the Future Me programme. She said: "At AXA we have welcomed the opportunity to take part in this great and valuable initiative for young people in Leicestershire. With such a change to the world of work, due to the Covid-19 pandemic, I think it is the perfect time to be looking at 'Future Me' and the skills needed to get there."
The Future Me course is free of charge and begins on Monday 1 June at 11am. The sessions will be available for teachers to use in a classroom setting post-lockdown, ensuring that the insights gained from the course will continue to pay dividends for a long while to come.
For more details contact:
Gerarde Manley, Careers Hub Manager: 07808 735318
Beka Avery, Pathways Project Manager: 07584 594820