The Leicester Business Festival will return for a sixth year from 2-13 November 2020. Businesses can now submit applications to run an event – simply head to the LBF website and complete the short application form.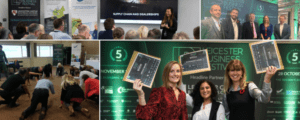 It is hoped that, by November, we will all be able to meet up again and attend events in person. However, this year's Leicester Business Festival has been designed to be fully flexible, and adaptable to whatever the government guidelines around lockdown and social distancing are at the time.
Events can be physical, purely digital or a combination of the two, with physical events live-streamed to an online audience. Businesses applying to host an event can state their preference on the application form.
If you decide to host an event, you're in control! Events at the Leicester Business Festival can be about anything business-related. They can take any form, from lecture to product demonstration to round-table discussion. Just last year, we hosted an interactive workshop event that used improvised comedy as a means of improving presentation skills. It was a hoot!
The organisers of Leicester Business Festival hope that this year's event will inject some much-needed positivity into the region and our business community. There is sure to be a keen focus on lockdown and coronavirus, and how both have affected the smooth operation of our economic activity. However by coming together as one, we can work to overcome challenges and support each other to once more grow and thrive.
For more information, check out the Leicester Business Festival website.